Interconnected Colocation for Critical Core & Edge IT Infrastructure Needs
Featuring the largest & fastest growing carrier-neutral Meet-Me Room in Brooklyn
Looking for state-of-the-art colocation for your critical IT infrastructure needs?
If your business depends on ultra-low latency data processing, DataVerge offers managed colocation as close to end users as possible. With our robust infrastructure, you can focus on driving innovation and growth for your organization, while leaving the complexities of data management and security to us.
DataVerge offers managed wholesale and retail colocation in Brooklyn, NY.
Connectivity
Low latency
Built-in redundancy
Affordable price point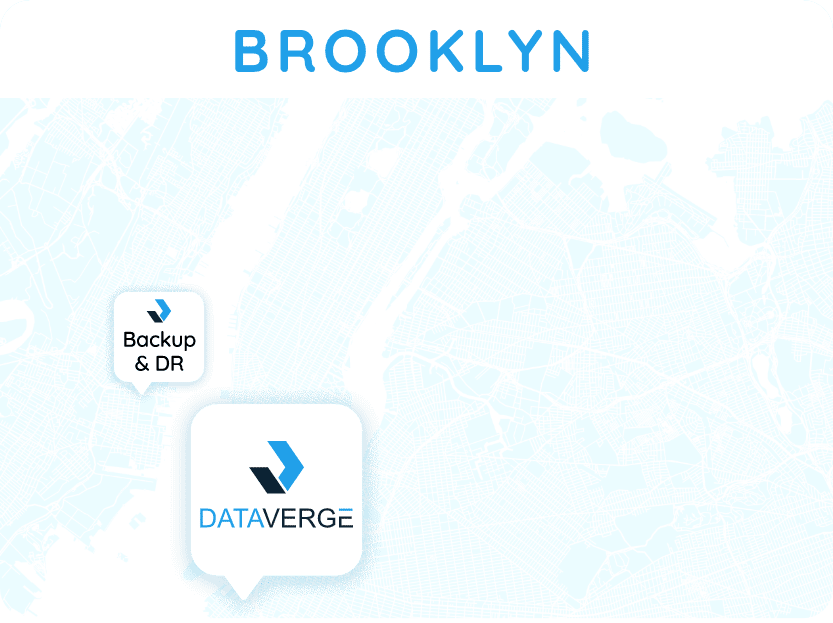 Why Brooklyn?
Tech employment is up in Brooklyn more than any other borough with almost 10 percent of all NYC tech startups being located in Brooklyn
Brooklyn is NYC's most populated borough of over 2.5 million people
The connectivity provider for Industry City, the largest coworking campus, home of over 550 companies
Key Features of our Colocation Services:
Unparalleled Reliability
Our facility is designed with redundant power feeds, backup generators, and uninterruptible power supply (UPS) systems to guarantee uninterrupted operations, even during unforeseen power outages or disruptions.
Advanced Security Measures
We employ state-of-the-art security systems, including 24/7 surveillance, access controls, biometric authentication, and multi-layered physical security protocols, ensuring your infrastructure remains protected at all times.
Scalability and Flexibility
We offer flexible colocation options to accommodate businesses of all sizes. Whether you require a single server rack or a private suite, our facility can adapt to your evolving needs and provide the necessary space, power, and cooling infrastructure.
High-Speed Connectivity
Benefit from our robust network connectivity, with more than 30 carriers available to ensure low-latency connections and high-speed data transfers. Our facility is strategically located to provide excellent connectivity options to various metropolitan areas and beyond.
Expert Support
Our team of experienced professionals is available 24/7 to assist you with any technical issues or concerns
Our Brooklyn Facility at a Glance
The most interconnected ecosystem underpinning Brooklyn, Queens and Long Island
Brooklyn's only carrier-neutral Meet-Me Room for network operators
The connectivity provider for Industry City, the largest coworking campus, home of over 550 companies
A Rich & Fast-Growing Carrier Ecosystem
Our data center provides the most dependable, high-performance environments for critical IT, cloud and edge workloads – supported by over 30 leading carriers, network providers, ISPs and CDNs.